Tim is the name. Bad movies are the game.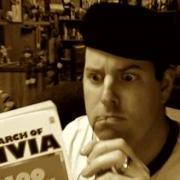 What can I say…I love bad movies. Is there a more universal activity than sitting around with friends and ripping apart an awful movie. The movie may be awful, but the enjoyment gained is priceless. I will watch almost anything, but there was a time I wouldn't have wasted my time with any of the movies we have chosen for this site. As time has passed and I have grown wise in my years, I have come to appreciate a truly terrible film. It might be the god awful dialog, terrible acting, lack of plot, or any number of characteristics that would drive most people away from a perfect anti-masterpiece. Some would say watching these movies is a test of endurance…I say we are performing a public service. (though endurance does come into play with particularly wretched selections)
What else should you know about me? I like animation in any style…good, bad, weird, or whatever. I still read comics and I was really into Star Wars growing up. You know….all the cool guy stuff. I pledge to you that I will do my best to give the straight skinny on these craptastic celluloid treasures so that you too can grow
to love them as I have.